Gok Wan's Divine Outline: Gok Wan Shapewear
Gok Wan Shapewear: He has done it again. The fashion-stylist come women's best friend, Gok Wan, has designed a stunning new Gok Wan shapewear range to compliment and enhance his previous range for Simply Yours. And we've got our hands on it to take a good look – and it's stunning.
The Gok Wan shapewear range for women combines funky colours & super strong control and creates great body shapes – you'll love it. AND it's really good value as Simply Yours have applied their very reasonable pricing to it, so we have a run down on Gok Wan's Divine Outline here.
Gok describes this item as 'your ultimate secret weapon' and we'd be inclined to agree. Gok Wan's Pull Me In Pants are a do-all cover up pull you in piece of shapewear! Now, we'll be honest. Sexy in themselves they are not. But, they will make you feel a million dollars due to the powermesh panelling.  This will hold you in and slim you down. It's like having Gok to help you
get dressed for your big do. Only available at Simply Yours.  We're sure this will sell out, so get in quick.Available size 10 – 32.
My favourite piece of the new range are these fabulous Gok Super Slicker Knickers.
 Look at the fabulous colour of them! Amazing. These will hold in your waist, lift your bottom and slim you right down. You'll lose a dress size with these on! Gok tells us that he's listened to Simply Yours customers to find out about their favourite shapewear pieces and then revamped and redesigned the best of his range to perform better then ever before. And these Knickers perform. Just £30 and available up to size 32. Get them from Simply Yours now.
Gok Wan has come up trumps once again with his fantastic shapewear all in one, the Gok Wan Curve Controller.It comes in a range of striking colours, and our favourite is this one.  The colour is wonderful, but more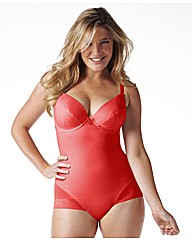 importantly, the strength and control is excellent. The banger-loving Gok Wan has transformed the lives of women everywhere with his tips to looking good naked, whatever your shape.
And now Gok - known to his fans, the Gokettes, as Auntie Gok – is taking his quest to make women look and feel better even further, with a new range of Gok Wan shapewear designed to pull them in – or let them out – in all the right places. So if you're looking for a shaping all in one, Simply Yours' Gok WanRange is probably as good a place to look as any. 'Flirt, flaunt and celebrate your curves in my mostamazing pieces yet,' says Gok! Ok Gok we will, and with the boning, seamless panelling and Powermesh technology, this Curve Controller has effortless style and maximum control!